You have plastic waste? For a specific inquiry, simply use our inquiry form or give us a call.
A Strong Partner for Plastic Recycling
Krall Kunststoff-Recycling GmbH is a specialised waste disposal company ("Entsorgungsfachbetrieb") certified under article 52 of the German Recycling and Waste Disposal Law ("Kreislaufwirtschafts- und Abfallgesetz"). 
In cooperation with an institute of Fraunhofer-Gesellschaft, the company developed a high-tech procedure to distinguish plastic materials. This system facilitates the safe identification of similar plastics in order to separate them.
The technological equipment enables the company to offer individual recycling concepts tailor-made for the individual situation of every contractual partner in Europe. It is not important for the company whether this is sorted or mixed waste.
You may rely on the company's professional advice! The company is experienced in providing assistance to develop your individual recycling concept in accordance with the legal requirements. The result is environmentally compatible disposal under utmost consideration of your commercial interests.
For a specific inquiry, simply use our inquiry form or give us a call.
Extensive Transport System
Uncomplicated and reliable
By means of an extensive logistics system, the company collects plastic waste from all over Germany and many other European countries. You are provided with special collecting boxes, where you can comprehensively collect even the smallest plastic residue. In case of regular high quantities, customer-specific containers are used. The materials management is based on an exchange system; full boxes are replaced by empty boxes when the material is picked up. You will have a double benefit from the company's punctuality. The company ensures a materials management in due time and an immediate remuneration.
Our central location in the Rhine-Main region at the junction of all important traffic operations facilitates very short periods of adjustments and an economical transport system.

We have had longstanding partnerships with the plastics industry all over Europe – the proof: More than five hundred companies from production, trade and industry rely on a trustful cooperation with Krall Kunststoff-Recycling GmbH. Our customers appreciate our tailor-made solutions for recycling their plastic materials. Let us convince you with a concept which has multiple benefits for you.
We provide you with the collecting boxes (mesh boxes, Krall recycling boxes, etc.) adapted to your needs free of charge.
We accept and recycle your plastic waste from the complete range of semi-finished products and special materials such as films, saw chips, compound material (e.g. sanitary acrylics).
We pick up your material immediately and send you the remuneration directly after income inspection.
We offer fair and constant prices in spite of fluctuating market and raw material situations.
We have our company inspected voluntarily as a certified specialised recycling enterprise and can guarantee an exact recording of all quantities.
We recycle the complete range of semi-finished plastic products, such as: PMMA (XT, GS, high impact), PC, PET-A/-G, SAN, PS, ABS, PA, POM, PP, PE, PVC (also foam sheets), and other plastic materials upon request.
We accept the following qualities: sorted, mixed.
On our premises of 12,000 m² we recycle 8000 mt of plastics with two shredders and 10 cutting mills for reprocessing. We are planning further investments, hence your requirements can also be met in the future.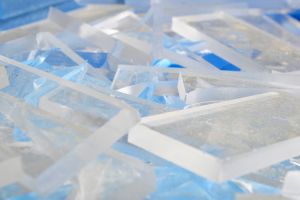 Recycling of CDs, DVDs, CD-ROMs, Blu-ray Discs and mobile phones
Krall Kunststoff-Recycling GmbH already has high tech equipment to ensure generically pure raw material. Moreover, our area of transporting and recycling CDs, CD-ROMs, DVDs, Blu-ray Discs (BD) as well as mobile phones is monitored by video; we can therefore guarantee a safe recycling of your data carriers.
Being a certified specialised recycling enterprise, we will be glad to issue a certificate of destruction for your material.